Latest Blog Post
The Basics Of SWIFT MT798
by Shahriar Masum
| February 23, 2017
In my last post, I promised to discuss about the structure of MT798. I am assuming that you are already conversant with the Bank to Bank Swift Standard.
First let's discuss the Scope of this message. MT798 is a message specifically meant for communication between Bank and the corporate. Therefore, one bank cannot send a MT798 message to another bank. If we consider a LC / Guarantee transaction, here is how the flow would look like: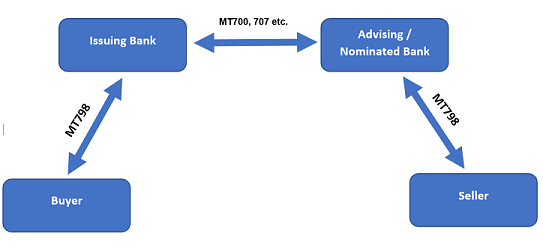 As you can understand from this image
>>A buyer would first send a LC application to Bank via MT798.
>>The bank will then issue the LC and sent it to advising bank via MT707.
>>The advising bank would advice the LC...
Read The Full Post
---

Bankers And The Market Price of The Goods
by Kim Sindberg
| February 09, 2017
In the previous newsletter I addressed the newly released "Wolfsberg Group, ICC and the BAFT Trade Finance Principles" - and focused on transaction monitoring on the Trade Finance transactions
In this blog post - and the coming ones I will look at other specific areas of the report.
For this blog post the topic is "bankers and the market price of the goods."
But first lets find out why this is even a topic:
No doubt a number of countries face problems in respect of money laundering.
Money laundering can be defined as "
the process of creating the appearance that large amounts of money obtained from serious crimes, such as drug trafficking or terrorist activity, originated from a legitimate source.
" 1)
It is said (an no dou...
Read The Full Post
---
Recent Discussion @ Forum