UCP 600 Transport Documents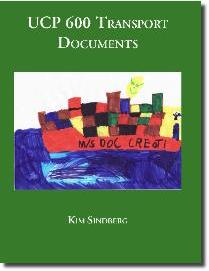 Publisher: Institute of International Banking Law & Practice (IIBLP)
Publisher's URL: IIBLP.org
Publisher's Descriptions
Kim Sindberg (formerly Kim Christensen) has authored "UCP 600 Transport Documents", a 150-page book published by IIBLP.
Widely regarded as one of the world's leading experts in the field and currently active as a trade finance consultant, Sindberg has dealt with countless situations and scenarios during more than 20 years combined experience as a banker and freight forwarder. In his book, Sindberg shares insight and offers recommendations to assist specialists in reducing refusals of transport documents presented under documentary credits.
Best Trade Solution's Review
The new book by Sindberg fills an obvious gap. There is no limit to the "transport vis-à -vis LC" related questions that are being asked in the trade forums on the internet. No doubt Sindberg is the natural person to write such book. He has a background from transport as well as being a recognised LC expert. Sindberg acknowledges the help from various experts, both within the field of trade finance – such as SOH Chee Seng – and within the field of transport – such as Erik Efland who runs pier2pier.com.
The book contains 6 chapters plus appendixes. The book starts out with a quick overview of the LC instrument. It presents the basic principles, parties etc. For a reader that is not accustomed to working with LCs this chapter is a good start.
However the core content and value are of course the parts related to transport. The book addressed the transport rules in the UCP 600 combining them with the transport practices reflected in the ISBP (International Standard Banking Practice for the Examination of Documents under Documentary Credits, 2007 Revision for UCP 600 – ICC publication No. 681) as well as relevant ICC Opinions. So although Sindberg is not covering new ground in these parts of the book, he presents a more comprehensive picture than is otherwise available. This information is out there – but only fragmented. Now it has been collected.
Sindberg does not stop there – he also addressed hard-core transport issues that are indeed relevant for the LC examiner – but so far close to unknown for the LC examiner. And he does so in a clear and to the point manner. For example there is a chapter that describes what one need to know about "freight forwarders." Both from a pure transport angle – but also based on LC rules and practise. He explains the issue of "movements" – i.e. the strange "codes" that shipping lines use such as LCL, FCL and CY.
The book is a very practical book. It provides precise guidance for the practitioners trying to make the actual transaction work as smooth as possible. It is not a legal book – and one should not expect to find information about LC court cases, or for that matter about the various transport laws and conventions.
In other words Sindberg fills the gap between transport and the LC instrument in a formidable and a practical way. "UCP 600 Transport Documents" is a must read book and close companion for document examiners, exporters, importers and transport companies issuing documents to be presented under an LC.
So what are the minuses? Well first of all "more wants more," so this reader would have liked the book to be twice the size covering more transport related topics. For example more details about release of goods under an LC.
Secondly, the book is only available as hard copy, and only from the website of the IIBLP in the USA. One would have wanted it to be available as an e-Book.
This does however not change the overall impression that this book is indeed invaluable for people working with LCs.