Incoterms 2010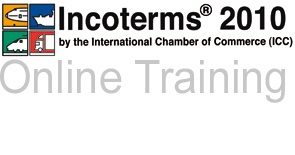 Publisher: coastlinesolutions.com
Publisher's URL: http://coastlinesolutions.com/incoterms.htm
Publisher's Descriptions
This course represents 6 hours of online instruction and training in Incoterms® 2010. Its aim is to ensure a firm foundation in the use and application of the Incoterms® 2010 rules.
The course content was written by Professor Jan Ramberg, author of the ICC Guide to Incoterms® 2010, Vincent O' Brien, international trade specialist and Gary Collyer, Technical Adviser to the ICC Banking Commission.
Best Trade Solution's Review
Lots of flash animation, this is what you will notice while going though this training and there is hardly any written text. In fact this training is fairly different from other training made available by the same publisher.
The training begins with a brief introduction to INCOTERMS, consisting of 10 flash slides. This part helps to clear key related concepts like Delivery, Transfer of Property, Documents, Custom etc. However do expect in-depth on these terms. Only few lines are recited on each occasion.
As you enter into the main training area, a nice flash presentation will appear on EXW. The narrator will speak about 2 and half minutes. Obviously much detail cannot be covered within this short time. What is covered is a brief description of EXW and the responsibilities of the related parties. Same comments apply for rest of the Incoterms.
You will also find two other tabs in each Incoterms. One will lead to table showing the precise responsibilities of buyer and seller and other will lead to a small quiz.
The training will also provide you with few case studies where you will either require choosing a correct INCOTERM or responsibly of the parties under an INCOTERMS.
The training also provides the text of the rule. Except this part, it is almost impossible to copy or save any text from the training on your local drive which some may find disappointing.
Overall, we felt that it is just as good as few hours workshop on INCOTERMS. We recommend it only if someone has no or very limited knowledge on INCOTERMS.